Tower of Power
Klik om de Tower of Power gokkast te spelen: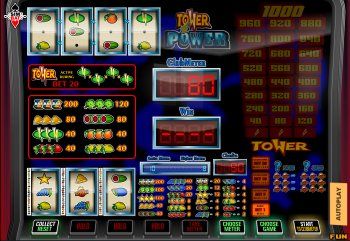 De Tower of Power is een klassiek uitziende gokkast die een basis- en een bovenspel heeft.
Basisspel
In het basis spel speel je op de kast met één credit voor elke spin. Extra prijzen kun j verdienen met het mystery symbool. Heb je op de eerste twee reels (of op alle drie de rollen) een mystery symbool, dan kan je bonus prijs oplopen tot maximaal 200 credits. Je credits kun je innen, of gebruiken om het bovenspel mee te spelen.
Bovenspel
Het bovenspel speel speel je met een inzet van vijf, tien of twintig credits voor elke draai. Met 5 kun je alleen de eerste 3 rollen laten draaien, met 10 doet de vierde rol ook mee en met 20 credits activeer je misschien wel de Tower of Power. Heb je 10 credit ingezet, dan maak je kans op winst met een combinatie van de rollen 1, 2 en 3 en de reels 2,3 en 4. De Tower of Power modus zorgt ervoor dat je een prijs kunt winnen oplopend tot wel 1000 credits.
Eenvoudig inleggen en uitbetaald krijgen
Deze gokkast kun je direct en snel spelen via Eurocazino. Wil je om echt geld spelen? Dan kun je veilig en eenvoudig betalen met je telefoon, iDeal, Paysafecard en meer opties.